3 Tips for Painting Over a Shiny Surface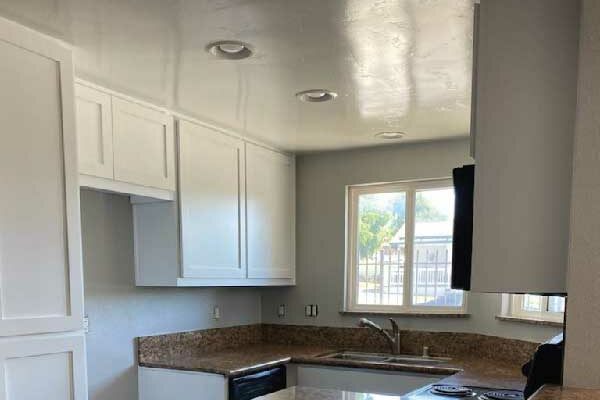 If you have a shiny surface you want to paint, it's important to know that a little bit of preparation work is necessary before you pull out the paintbrush. The problem with shiny surfaces is that they are super smooth, which means there aren't microscopic bits to hold the new coat of paint. Instead, you need first to dull the walls and add some texture.
Here are a few tips to consider when you are preparing to paint a shiny surface:
Tip #1: Remove the Sheen with Sandpaper
One option to dull the surface is to sand it down using fine-grit sandpaper. The roughness of the sandpaper takes the sheen off the surface. Keep in mind that removing all of the paint is unnecessary. Instead, your goal is to rough up the surface enough to get rid of the shine. This process creates small nooks and crannies where the paint can hold.
Using a stiff bristle brush that takes off loose materials can also be helpful. Then sandpaper is next for a finer roughing of the surface.
Tip #2: Alternative: Use a Primer
Most people don't want to spend the time and energy to sand the walls. This process is labor-intensive and can be tedious. An alternative is to use a primer that is designed to stick to glossy surfaces. So, you'll first add a layer of primer and let it dry. Then, it's time to use one or two coats of regular paint.
For best results, it's a good idea to sand the wall surface before using the primer. But if you use a quality primer, you can avoid sanding altogether.
Tip #3: Primers for All Surfaces
A high-adhesion primer is effective for more than just wall painting. If you are working with other shiny surfaces, make sure you use a good primer. For example, this process can be effective on cabinets, tile, and Formica.
Personalized Recommendations for Paint Selection
When choosing paint and primer, our team is here to assist. We offer a variety of quality products to create the ideal surface for your home. These services are available for both commercial and residential painting projects.
For more information, schedule a consultation with our team at Vivify Painting. Contact us when you are ready to learn more. We'll discuss your project and provide an estimate for the work: (951) 775-7522.