Cabinet Painting Makeover: Elevate Your Kitchen for Fall Entertaining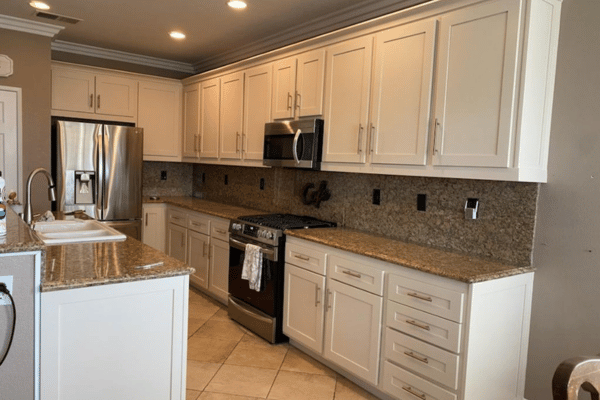 Do you agree that fall is the best time of year to get started on home improvement projects? Not only is the weather cooling down, but the kids are back in school – giving mom and dad more uninterrupted time to work on maintenance projects without distractions.
When you invest time and money into home improvement projects right now, then it means that you can finish the projects as soon as possible and enjoy an upgraded home for the coming holiday season. You'll be glad to enjoy Halloween, Thanksgiving, and Christmas without worrying about the home maintenance and repair projects that fell to the back burner.
Updating the cabinets is one simple and effective way to makeover your kitchen. Here are a few ideas to help with this project:
Cost of Cabinet Refinishing
It's no surprise that ripping out the cabinets and installing new cabinets can be quite expensive. In most situations, it isn't necessary to remove the old cabinets. If you are looking for ways to save money, consider painting or refinishing the cabinets instead of rebuilding them.
Create a New Look with Paint
A fresh coat of paint goes a long way to improving your cabinets and up-leveling the entire kitchen. Keep it simple with a basic coat of paint. Or, consider adding a bit of flair and personality with unique painting designs:
Crackling Glaze: Create a trendy "weathered" finish on the cabinets using a crackling glaze. It's easy to use! Once your base coat is dry, apply the crackling glaze and make sure you paint in only one direction. Let it dry, then add a flat top coat of the base color, brushing perpendicular to the glaze. As it dries, the cracks will start to form.
Distressed: There is a big difference between beat-up kitchen cabinets vs. stylish distressing! Layer the colors on the cabinets and spatter some dark paint to create specks. When the paint is dry, use light sanding to uncover the lower layer color. If desired, you can finish with a protective coat on top.
High Gloss: Add a touch of luxury to your kitchen by choosing high gloss paint. Not only does high gloss look great, but it's easier to keep the fingerprints off your cabinets when you are cleaning.
Expert Painting Services for the Cabinets and More
Our pro team at Vivify Painting is here to help with kitchen cabinet painting and other interior and exterior painting services. Contact us for a consultation to discuss your upcoming projects: (951) 775-7522.