Add Whimsy to a Playroom by Painting Polka Dots or Patterns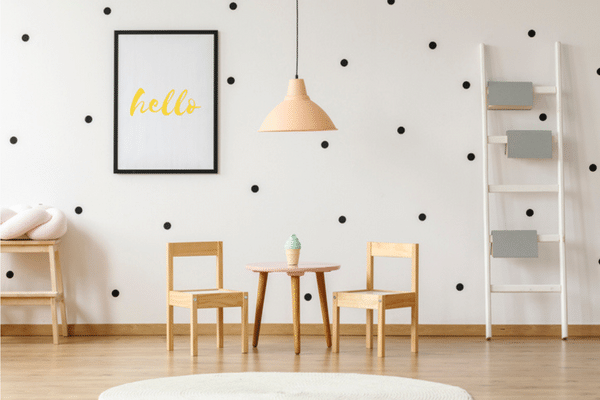 A playroom is more than a space to store toys. With the right furniture and décor, you can transform this room into a place that sparks creativity and fun for your children. It's fun to pick out the colors and whimsical designs that add a personal touch to the nursery or playroom.
Not only do you need to choose a color theme for this room design, but also think about the way that patterns will make it truly unique. For example, an accent wall is a simple and effective way you can make the playroom stand out and liven up the space.
Consider these fun designs for your accent wall. Depending on your preferences, you can choose a wallpaper design or add patterns and colors with paint.
Polka Dots
Adding spots on the wall doesn't seem like a big deal, but it's incredible how much these polka dots bring the room to life! All you need to do is paint circles on the wall. Consider patterning them in a grid, or add random circles and random sizes. One option is to place more circles at the base of the wall, with fewer circles at the top – making it appear that the polka dots are floating up to the sky.
If you want to take the polka dots to the next level, then transform a few of them into fun designs. For example, you might make balloons or minimalist flowers to bring a little more delight into the room.
Stripes
Not all striped walls are created equal. One option is to use two contrasting colors for the same width of strips. Or, change it up with stripes of different widths to make the room a little more playful. Another possibility is to use multiple colors so that you can bring together other design features in the furniture and other elements in the room.
Mural
If you want to make the room truly unique, then a mural is a great option to consider. For example, paint the child's favorite animals on the wall, or add a sports theme. Murals can be designed with simple or complex features.
Wallpaper
Sometimes painting can feel a little overwhelming, especially if you don't have much experience with a paintbrush in hand. If you want a pop of color without the complications of planning a customized paint design, look at different types of wallpaper to match the other features in the room.
Contact the Painting Experts for Advice
Do you need help choosing the right paint features for your home? Whether you are decorating a playroom or renovating the kitchen, Vivify Painting is just a phone call away. Contact us for residential or commercial painting services: (951) 775-7522.