Front Door Painting: Statement Color or Muted Tone?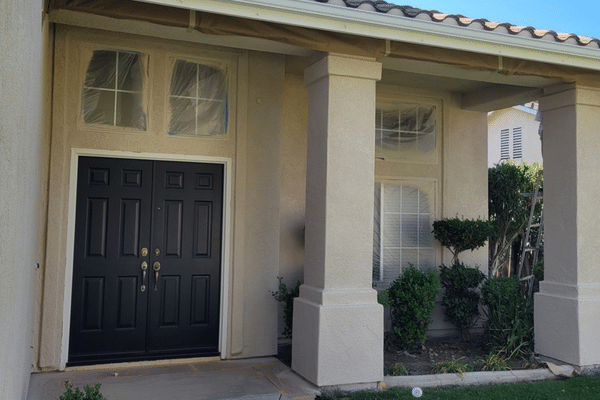 The front door is one of the first things that people see when they come to your home. So, it makes sense that the door color and appearance will have an impact on first impressions. But what message are you sending when someone approaches your door? It might be time to reassess the color and finish of your door… a quick renovation can have a noticeable impact on your curb appeal.
Repainting the front door is a fast and easy way to upgrade the exterior appearance of your home. If you want to leave a lasting impression, you might choose a statement color. Or, choose a more muted tone if you want the focus on other design elements in your home. Here are a few tips for choosing a paint color for the front door:
Overall Design Scheme
First, it's essential that you look at the overall design scheme of your home. Pay attention to every detail: the colors on the roof, trim, stone, brick, hardware, landscaping, and more. Most of the time, neutral paint hues will look good with these other design elements. Make sure that the colors coordinate in a complementary palette that is both appealing and stylish.
Personality and Style
Another approach is to add a pop of color that makes the front door stand out from the other design elements of the home. Each home has unique characteristics, and you can add even more personality with unique colors and features. In addition to the other paint colors, consider the home's overall design: Colonial, Tudor, Victorian, etc. Talk to an interior designer or painting expert to get recommendations for these different types of styles.
Neighborhood Themes
Another consideration is how your home looks compared to the neighbors. While you don't always want other people's opinions about your property, seeing some similarities through the neighborhood is nice. Also, if you are living in a community with an HOA, then there might be requirements or limitations for the exterior paint colors and renovations that can be done.
Call the Painting Pros in Temecula
Whether you need help with something small, like repainting the front door, or you are looking for assistance with a more significant project, our team is just a phone call away. For all your residential and commercial painting needs, contact Vivify Painting to discuss the possibilities. Contact us to schedule a complimentary consultation and request an estimate: (951) 775-7522.