Get the Chimney Ready for Santa Clause with Brick Painting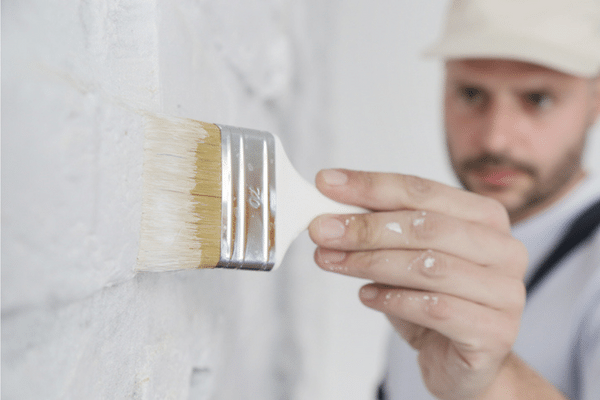 What is Santa going to see when he slides down the chimney this year? Because of the traditional stories of Santa coming down the chimney, the fireplace and mantel are often a focus for Christmas decorations in the home. Many families like to add garland and hang stockings for decoration. Add a cozy fire, and it creates the perfect ambiance to share the joys of the holidays with your loved ones.
Many fireplaces and chimneys are constructed using bricks. It might seem like bricks offer limited options for renovations. But the truth is that a fresh coat of paint can look great to upgrade the overall appearance of the home – both exterior and interior improvements.
Benefits of Brick Painting
Should you add brick painting to your home improvement list? Here are a few of the benefits you can expect from this project:
Looks Great: When you paint the bricks, it creates a clean look and smooth surface. Painted bricks still have the texture of bricks and mortar, but it creates a consistent color all over. Plus, you can choose any color you desire, matching the brick sections to the other décor elements in the room.
Easy to Clean: Bricks are porous by nature, making them tricky to clean since dirt can get trapped in the crevices. Over time, unpainted bricks can start to look dingy and discolored. On the other hand, painted bricks are simpler to clean because you can see the dirt and wash it away.
Protect the Bricks: Adding a layer of paint over the bricks is an extra layer of protection that can help extend the chimney's lifespan. It seals the bricks, minimizing the risk of moisture and other damage from the weather elements. Make sure you use the right paint that works well for a fireplace. Work with a professional painter to choose the right products for the best results.
There are also a few potential drawbacks to consider. For example, painted brick is permanent – you will never be able to return the brick to its permanent state. Of course, you can always repaint the bricks in the future, but you won't be able to restore the original appearance of plain brick.
Schedule a Consultation with the Painting Experts
If you are ready to upgrade your home, then Vivify Painting is just a phone call away. We offer both residential and commercial painting services. Our team is always here to help. Contact us for more information about home and office renovation projects: (951) 775-7522.