How to Modernize a Home's Exterior by Painting Cedar Siding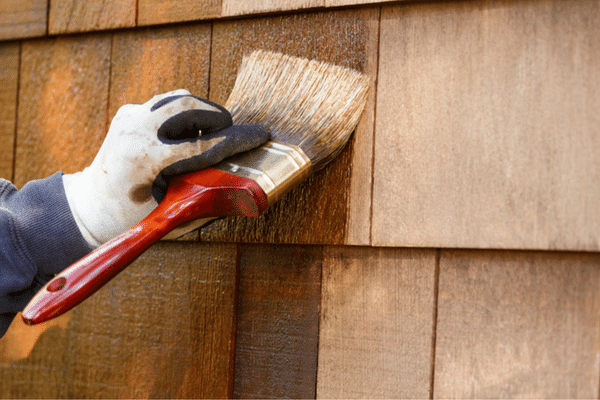 Cedar siding looks natural and beautiful, which is why it is a common exterior material for homebuilders. Even though builders don't often use cedar siding for current construction projects, many properties still have this existing siding. Most of these homes are a little older, which means that they could benefit from some TLC.
If you have a home with cedar shingles or siding, then it might be time to give it a facelift to improve the curb appeal of your property. A little bit of maintenance not only improves the appearance of your home but also helps to protect the quality of your exterior by saving you money in the long run.
Is It a Good Idea to Paint Cedar Siding?
One thing to consider is a fresh coat of paint or stain over your siding. This home improvement project helps to protect the wood materials so you can extend the overall lifespan of cedar siding.
But there is one important thing to keep in mind: painting siding is irreversible. Once you paint the cedar siding, you won't be able to return to a natural wood appearance. If you want to keep the look of the wood, then consider using a semi-transparent stain. Or, a thicker coat of paint is an option to consider if you want to transform the entire appearance of your home.
Protecting Your Home from Pests and Weather
The truth is that siding can become a problem because of the way it can be damaged by weather and pests. When it rains outside, the moisture can seep into the cedar siding and eventually cause rot, mold, and other damage. Every time your cedar siding is exposed to harsh weather, it takes a toll on its durability and appearance.
At the same time, rotting wood can bring in pests. When the wood is old and in disrepair, insects and rodents can easily locate access points. You need to make sure to have a quality layer of stain or paint over the wood to minimize the risk of an infestation. Painting the cedar siding can deter pests from chewing down the wood.
Is House Painting Right for You?
If you have cedar siding and want to improve the appearance of your home, then we invite you to contact our team for a consultation. We will help you decide if cedar siding painting is the right service for your unique needs by looking at the age and condition of the siding.
Our team at Vivify Painting offers both commercial and residential painting services. Contact us at your convenience to schedule your complimentary consultation: (951) 775-7522.