Paint the Fence Dark for a Contrast to a Flower Garden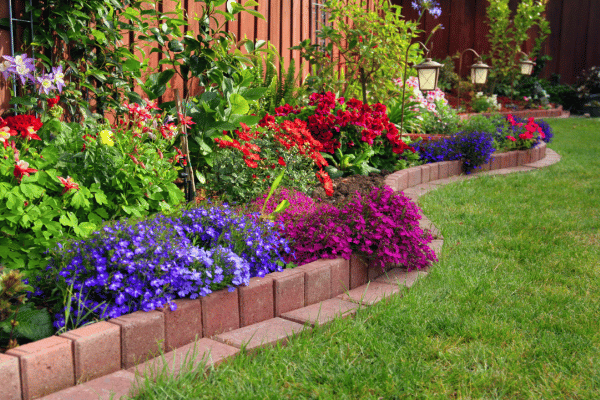 Your home's exterior leaves a lasting impression on anyone who visits your home. Creating a warm presentation in your front yard can help friends and family feel welcome and excited when they pull into the driveway. Does the outside of your home represent your aesthetic?
3 Yard Makeover Tips
As the flowers bloom and enhance any yard situation, you can maximize the beauty of your yard. Here are some ways to take your landscaping to the next level:
1. Work with What You Have
You cannot always pick the layout of your front yard. What can you do to enhance the area that you have to makeover? Add fresh flowers and always keep up with weeding and gardening. Display cozy furniture on the patio or paint the front door for a pop of color. A welcome mat and potted plant at the doorstep are great finishing touches.
2. Choose Contrast
Colors are a huge part of your curb appeal. Choose contrast by painting your front yard fence dark against a beautiful flower garden and white house. The dark fence will attract interest to the setting. The smooth, new paint is perfect for upgrading an old fence and making the whole yard look brand new.
3. Focus on the Plants and Flowers
You do not bring decorations into the front yard like you would decorate the kitchen or main living area. Instead, the plants, shrubbery, and flowers are the main centerpiece of your home exterior design. A contrasting fence is important because it is the perfect backdrop to a beautiful plant setup.
Let the shrubs and the flowers introduce textures, colors, and differing heights to create a gorgeous display of natural yard elements. It's so easy to let nature do its thing in order to upgrade your curb appeal and really let your home shine.
Curb Appeal at Its Finest
We all know how important it is to keep a lovely yard and create a solid first impression on friends and neighbors. Painting is just one part of the process, but a very important one. Never hesitate to touch up or repaint an old fence or front door to increase your home's curb appeal.
Vivify Painting can help. We are here to help you repaint fences and decks to keep your home's exterior just as beautiful as the interior. Contact us to set up your professional painting appointment: (951) 775-7522.