Pro Advice: Choosing the Best Paint for a Bathroom Renovation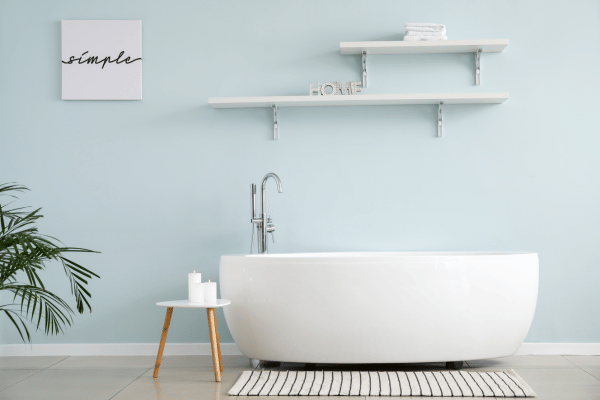 It doesn't matter if you are shopping for paint at a specialty shop or a local big-box store – a variety of paint types can make your decision feel overwhelming. These different options offer the best solutions for specific painting projects, which is why it's essential that you understand what kind of paint you are buying.
For example, there are different paint products for bedrooms vs. bathrooms. Make sure you are choosing the paint that is designed for the way you will be using it.
Best Type of Paint for Bathrooms
One reason why you need bathroom-specific paint is because of the higher humidity levels in the bathroom. Every time someone uses the shower or tub, it increases moisture in the room, resulting in mildew, mold, or rot if the walls and trims aren't properly finished.
You want to be sure that the paint will last for years under these conditions. The best type of paint for a bathroom is a satin, semi-gloss, or glossy finish. Also, check the paint to ensure that it contains an additive that is mildew resistant.
Don't make the mistake of choosing cheap paint for the bathroom. If the paint isn't designed for bathrooms, you will likely experience problems in the future. For example, moisture and steam from the shower can seep between the paint and wall, resulting in rotting, peeling, bubbling, and unwanted texture.
The glossy finish on bathroom paint cures as it dries, creating a hard coat to block out water. As a result, the moisture will drip down the wall and to the floor instead of seeping into the wood or drywall.
Be careful to avoid any paint products that are designed for exterior use. For example, masonry paint can be used on exterior walls or basements for waterproofing benefits. But they might have hazardous ingredients such as additives and mildewcide that aren't safe to be used inside. Safety comes first when it comes to chemicals that could harm your family.
Bathroom Painting and Full-Service Solutions
When it's time to paint the bathroom, the best thing you can do is consult an experienced professional. Not only do you need to choose the right paint, but it's also essential to prepare the surface to ensure the durability and quality of the renovation.
At Vivify Painting, we offer both residential and commercial painting services. Contact us for more information and to schedule a complimentary consultation: (951) 775-7522.