Refresh a Kitchen by Painting the Cabinets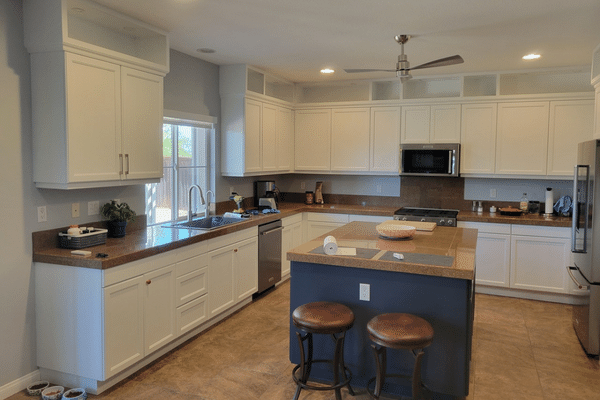 Are you tired of seeing a drab, outdated kitchen every day? There is a reason why home experts say that the kitchen is the "heart of the home" because this room is the place where many families gather for meals and social time.
Considering the time you spend in the kitchen, you deserve to have a space you love. If your kitchen needs a facelift, then there are a few things that you can do to improve the room without doing a complete gut-and-rebuild renovation. The first place to start is by painting the cabinets.
Benefits of Painting the Cabinets
Is it worth the time and money to repaint the kitchen cabinets? Even though it's a hassle to clear out the cupboards and have your kitchen under construction for a few days, it's worth the discomfort because of the long-term benefits you will enjoy.
Here are a few advantages of painting the cabinets:
Update the Colors: One reason why the cabinets look outdated is because of the colors that are out of style. Changing the paint color is a fast and effective way to improve the room's overall aesthetics. You can choose any color you desire – from white to blues, greys, creams, and everything in between.
Add a Luxury Finish to Cheap Cabinets: If the kitchen cabinets were built using cheap materials, such as plywood instead of natural wood, a layer of paint can upgrade the appearance. Adding color is a great way to make an average kitchen look like a luxury living space.
Cover Up the Flaws: It's normal for cabinets to have scratches, dents, and other flaws over time. When your home is being used daily, you can expect that some of these aesthetic blemishes will show up. A good paint job can cover up these imperfections and make your cabinets look as good as new!
There is one potential drawback to painting the cabinets: the paint will cover up the natural character of the wood. If you want to see the grains and knots in the wood, talk to our team about staining the cabinets instead of painting them.
Professional Painting Services for Your Cabinets
It takes a lot of time and effort to paint the cabinets, especially when you consider the preparation work (sanding) and multiple layers of paint that are needed. So instead of spending all your free time on a DIY project, call the painting experts at Vivify Painting. Contact us to schedule a consultation and learn more about the commercial and residential services we provide: (951) 775-7522.