Textured or Flat Walls for a Commercial Space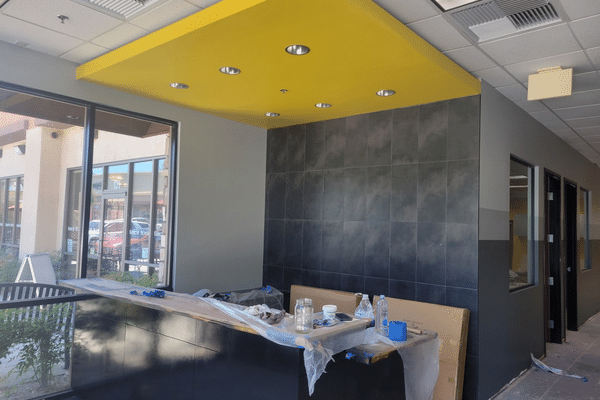 As you are preparing to repaint your walls, many small decisions need to be addressed. Not only do you need to choose the color of paint that you want to use in each room of your office, but there are many different types of paint that can add different features.
Paint features might seem relatively small, but they make a noticeable difference overall. In addition, details such as glossy vs. matte or textured vs. flat contribute to the ambiance and interior design that you want to create in your office.
These choices are impacted by personal preference. Also, it's always a good idea to consult with an experienced painting contractor for customized recommendations. Our team at Vivify Painting is here to help you upgrade your office and create a fresh and inviting space.
Textured vs. Flat Walls
Various factors will affect whether the walls are textured or smooth. The current condition of the walls, the type of paint you choose, and the method for applying the paint will all make a difference in the final appearance.
All About Textured Walls
Textured walls are often suggested when imperfections on the wall need to be hidden. For example, if the drywall is damaged, textured paint will probably look better than smooth paint. Additionally, texture can be a great contrast if you want to add depth to your interior design.
Various types of texture can be added to the walls: crackling creates a homey, country feel. Or, add a touch of glamour with walls that are infused with texture and a little bit of metallic.
What You Need to Know about Flat or Smooth Walls
On the other hand, the texture isn't the best solution if the walls need frequent scrubbings, such as in a kitchen or bathroom. When there is a high splash risk, then eggshell or satin paint will often look the best and perform optimally over the years.
Additionally, glossier paint can be beneficial for these flat walls because the coverage will hold up better after cleaning and scrubbing.
Customized Recommendations for Your Repainting Project
It's exciting to think about the possibilities that are available when you repaint your office! If you are getting ready to move forward with these office improvement projects, schedule a consultation with our team to identify the ideal paints and services for your unique needs.
At Vivify Painting, we offer both commercial and residential painting services. Contact us to set up a free appointment and estimate: (951) 775-7522.